Goodpapa launches electric UVC sterilization bottle brush in the Global Market.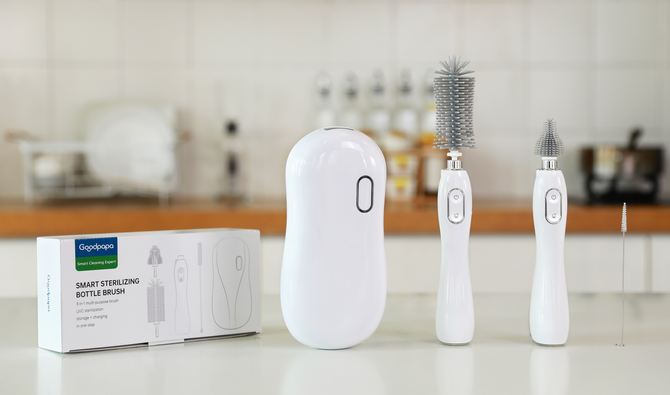 Goodpapa celebrates the introduction of its N10 in the Global marketing on the popular Kickstarter.com marketplace with an early bird discount price for a limited time from now.
https://www.kickstarter.com/projects/goodpapa-bottlebrush/goodpapa-n10-an-intelligent-uvc-sterilizing-bottle-brush
Goodpapa, a home cleaning appliances brand committed to delivering a whole home cleaning solution, has launched the Goodpapa N10 in the global market. The N10's ease of use and multifunctional is particularly attractive and useful for newborn families, the young, and anyone – who often cares about the hygiene and health of the family and gets tired of the cleaning challenges due to the busy modern lifestyle. Goodpapa's cleaning solution helps them to spend less time on these cleaning chores and provides them with a more healthy lifestyle.
"It's a delight for us to bring the N10 to the public," said Yang, founder of Goodpapa. "With the Goodpapa N10, people will love the highly effective bottle cleaning experience and the more hygienic and healthy lifestyles with the integrated UVC sterilization. We are now having it available on the popular Kickstarter.com marketplace. Healthy lifestyles are more and more important nowadays, especially in the covid pandemic years. We had re-reviewed people's life habits and deployed the newest technology into daily life, meeting the demand of UVC sterilization on one hand, but burdening people's life with less. So we got the idea of N10 and discovered more optimization spaces through surveys from hundreds of user behavior. Finally, we created this product specialized in UVC sterilization and electric cleaning. "
Goodpapa N10 features
The N10 is the first product on the market that features: electric cleaning, UVC sterilization technology, dish soap anti-leak storage, one-key spray technology, and contact charging.
Compact storage case is integrated with contact charging and UVC sterilization, 99.9% efficiency to kill bacteria within 3 minutes. Providing a hygienic and healthy lifestyle that fits consumers' demands. Contact charging makes charging convenient and without hassle.
 
The Goodpapa N10 bottle brush uses an advanced brushless motor that runs up to 280r/min to generate enough torque to clean dirt and stains at ease.
Build-in dish soap tank and features anti-leak technology, dish soap one-key spray technology, reduce the waste of dish cleaner and more eco-friendly.
Two kinds of replaceable silicon, BPA-free brush heads, suitable for various usage scenarios - long brush for bottles, cups, glass, mug, etc. Nipple brush for feeding nipples. Brush heads are also integrated with magnetic technology for easy assemble. The silicon brushes are soft and gentle enough to keep the cups and bottles safe and shine. It also has another straw brush to clean straws.
Special design makes the brush heads dry super-fast.
It is easy to store and carry for camp, travel, etc. with compact size and lightweight.
The high-capacity lithium battery offers a longer cleaning time – up to 4 hours with one charge.
The brush is IPX6 waterproof, rinse the brush in the running water without worries.
Perfect for cleaning feeding bottles, nipples, sports bottles, coffee mugs, beer mugs, cups, bowls, plates, etc.
Clean on the go with one-key power on or off and one-key cleaner spray.
Early bird offers and availability.
The Goodpapa N10 is available now on Kickstarter.com from 20/April/2021 to 20/May/2021. Consumers can take advantage of a super early bird special offer for a limited time to buy the N10 at 44% off discount.
For the media kit of Goodpapa N10, please visit here:
Leave A Reply
Your email address will not be published. Required fields are marked *