Goodpapa Multi-Function 4-in-1 All-Purpose Scrub Brush Reviews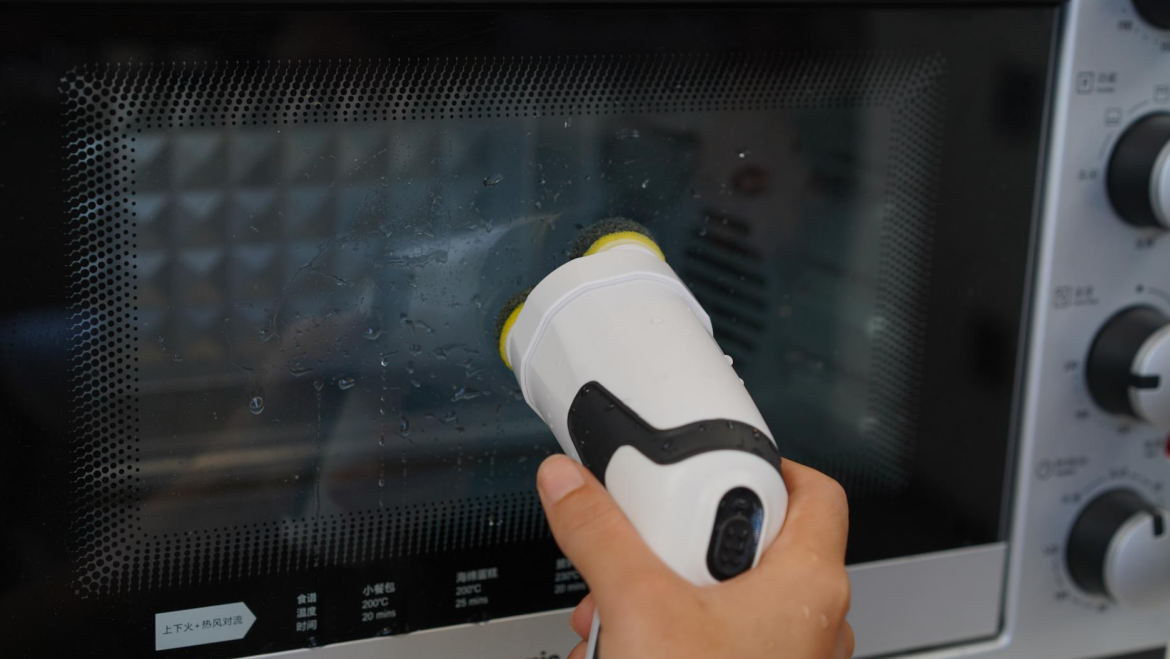 I'm one of those people who enjoys cleaning my home. I take great pride in having things neat and organized. Having unannounced guests stop by isn't something that I worry about.  I think everyone learned in 2020-2021 the importance of keeping your home clean to help stop the spread of germs. It's more important now than ever.
* Complimentary product received for review. This post may contain affiliate links.
Recently I had the opportunity to give the brand new Goodpapa K1 Multi-Fuction Spin Scrubber a try throughout my home. This cleaning tool is a multi-tasker and gets the job done quickly. It fits comfortably in your hand thanks to the ergonomic design. It's waterproof, features variable speeds and a 90 minute working time on a full charge.
It comes with:
Storage & Charging Base
Charging Cord
Scrubber Tool
Bottle Brush Head
Wire Brush Head
Flat Brush Head
Triple Head Attachment
Bottle Brush Attachment
18 Scouring Pads
Product Benefits:
Cleaner: 1.5X on-load torque & rotational speed than the market competitors. 1.18 Nm(12kg. cm) on-load torque & 350rmp/ min rotational speed.
Energy-saving: Go electric, go more relax.
Time-saving: Cut the cleaning time in half, save up a lot of time by using K1.
Money-saving: Well made and high-quality assurance. Every one of your pennies worth.
Eco-friendly: Less water waste and less detergent used.
Unique designs: Wireless Charge Design, magnetic connection design, and patented Scalable Bottle Brush Design.
I decided to give it a good workout in my kitchen. I had just spent 8 hours canning tomato sauce, so my kitchen was a mess! I used the scouring pads with a little bit of powder cleanser to clean my double stainless steel sink. It did a fabulous job at removing grease, grime, and food stains. I then used it up around the faucet and knobs. You know…those tiny little areas around there are very hard to clean! It got right in there and cleaned out all of the nasty gunk!
The bottle brush attachment is perfect for those who do home canning! It attaches to the base unit quickly and easily. It fits right down inside your regular mouth and wide mouth canning jars. It got them clean within seconds! All I used was a little bit of liquid dish soap and water. Crystal clean!!!
My husband used it to clean the backsplash behind the kitchen sink and stove. It's made of ceramic tile and grease and grime splashes up onto the tile and into the grout lines. Using the scour pads he was able to get all of that out. My grout lines are now white and clean. Grease and grime removed.
Moving on to the bathrooms. I used it in both our guest and master bathrooms to clean the sinks, around the faucets, the shower head & tub faucet, etc. We have ceramic shower shelves in both bathrooms to hold bottles and soap bars. The scour heads got all of the dirt and soap scum right off of them. Rinsed them with water and wow…I was done. It only take a few minutes to clean the tub and shower areas!
Master bathroom has a small pedestal style sink. Getting behind the faucet and around the knobs is tough. I like that the spin brush got in there and got the gunk out. We have hard water (well water) and often get a little bit of staining around our sink drains. Well, a little bit of powder cleanser, water and the spin scrubber made quick work of removing the hard water stains! Yeah!!!
This is one of the best, multi-purpose cleaning tools that I've ever used. I love that it's wireless, waterproof and that I get 90 minutes of cleaning time on a full charge. It's compact in size, fit's comfortably in my small hands (comfortable in hubby's large hands) and gets the job done quickly and easily. You're not spending hours upon hours on a task!
You can learn more about the Goodpapa products by visiting the company's website. You can connect with them on Facebook and Instagram too.
*This review  publiced on JULY 20, 2021 BY SHELLY
Leave A Reply
Your email address will not be published. Required fields are marked *